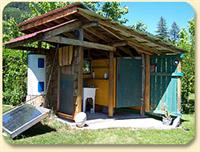 Product by:
Artful Lodger


Welcome to Artful Lodger. We have two beautiful Strawbale cottages on the Slocan River that would make a lovely accommodation on your next holiday. If you are looking for an alternative to hotels and traditional bed-and-breakfast inns, you may have found your perfect match at Artful Lodger.
Our cottages are crafted from Green Building Materials. Imagine spending your summer night comfortably cool within the straw bale walls of our cottages. There is no artificial lighting to hide the stars in the sky, and you'll have privacy, both in your cottage and in our solar shower. Also on the grounds, you'll find Organic Gardens, flowers, fruit trees and lots of art.
Breakfast is included in your stay, and it will include fresh fruits and vegetables from our own garden. We invite you to contact us to make reservations so that you can enjoy the simple pleasures of vacationing while treading lightly on the environment.
Please use the Contact form on the right for Strawbale Cottages on the Slocan River information and ordering.