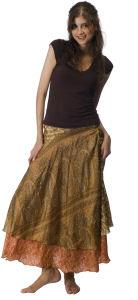 Product by:
Alchemy Fashions


At Alchemy Eco Fashions, we are committed to providing you with Ethical and Fair Trade clothing. Our clothing is soft, comfortable, organic and made with quality in mind. We also utilize eco-friendly processes in designing and manufacturing our clothing, and use environmentally friendly materials, such as organic cotton and recycled silk.
Natural living is important to us at Alchemy Eco-Fashions, and we want to do our part to help you live as naturally and organically as possible. We are also committed to fair trade business practices, and we pay our tailors a fair wage while ensuring that fair labor practices are upheld.
If you are looking for a source of high-quality fair trade and ethical clothing, yoga mat bags and brocade bags, look no further than Alchemy Eco Fashions.
Please use the Contact form on the right for Ethical and Fair Trade Clothing information and ordering.