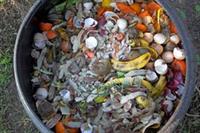 Product by:
Community Composting


At Community Composting, we offer a carefree Compost solution to those who want to begin composting, but aren't sure where to start. All you have to do is add your composting material to your compost bin, and we take care of the rest.
Here's how it works: We deliver a sturdy bin to each participating household in your community. You fill it up with your organic composting material. Every month, we come and take your Compostable material and deliver it to your community's compost pile. At the same time, we also bring you a 20-liter bag of composted soil for your own yard garden. In this way, all you do is provide the composting materials, and it benefits not only your garden, but your community as well.
We have a few different options in terms of how large your compost bin is, as well as how much soil you have delivered. Please contact us if you and others in your neighborhood are interested in participating in Community Composting.
Please use the Contact form on the right for Carefree Compost Solution information and ordering.