Houweling Nurseries Ltd. info, products & news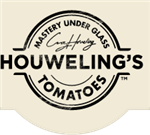 Houweling's Tomatoes, is a family owned, world-renowned greenhouse tomato grower with facilities in Camarillo, CA and Delta, BC. Founded by Cornelius Houweling and now led by his son Casey, Houweling's is dedicated to delivering a full complement of scrumptious tomatoes, while constantly innovating to reduce its environmental footprint.
Please get in touch with Houweling Nurseries Ltd. from the Contact box on the right.
Houweling Nurseries Ltd. Products
listed