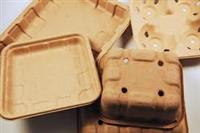 Product by:
Earthcycle Packaging


Earthcycle has developed a type of palm fiber Packaging that could change the way that food products are packaged now and into the future. As the fruit of palm husk is used throughout the year to create oil, the process leaves the palm fiber leftover. Up until recently, that fiber had to be incinerated or added to landfills.
Now, however, Earthcycle has developed a way to turn this previously unusable palm fiber into Recyclable Packaging that is safe for holding fruits and vegetables. As an added benefit, these packages are able to be fully composted, which means that they simply decompose and add nutrients to the earth. Because no chemicals, dyes or bleaches are used in the pulping process, you can be sure that your food, as well as your compost bin, will remain non-toxic and safe.
At Earthcycle, the environment is important to us. We conserve energy and water in our day-to-day operations, and we continuously strive to improve our processes in order to be cleaner, greener and more eco-friendly.
Please use the Contact form on the right for Palm Fiber Packaging information and ordering.