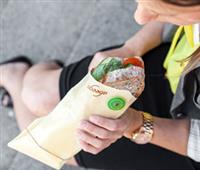 Product by:
Abeego


At Abeego, we believe in Natural food preservation. Keeping food fresh works best when the materials used are natural and breathable. We offer all-natural, Beeswax bags for storing food. In addition to beeswax, Abeego uses jojoba oil and tree resins infused into a Hemp and organic cotton bag.
Abeego bags are completely safe and non-toxic. Because they are made from all natural, organic materials, your food will not pick up any off odors or tastes. They are also reusable and environmentally friendly; you can simply wash your Abeego bag with a biodegradable soap and use it again and again.
No matter what type of food you want to store, an Abeego bag can help keep it fresh and delicious for longer than plastic wrap or ziplock bags. Because our products are completely reusable, they are an eco friendly way to package your food to eat later.
Please use the Contact form on the right for Natural Food Preservation information and ordering.