MatrixAir™ Solar Air Heating Systems Product details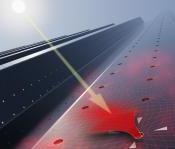 Product by:
Matrix Energy


At Matrix Energy, we have been providing eco solar air heating solutions since 1990. Since then, we have supplied supplied over 450 thousand square feet of collector area for solar air heating projects. These projects are not only in Canada, but also in the United States and Europe. To simplify, our company have been responsible for supplying almost 3 million CFM of pre-heated ventilation air.
MatrixAir™is our solar air heating system. It includes two façade-mounted absorber systems that utilizes backpass solar air heating technology to achieve super efficient solar air heating systems.
Our innovative MatrixAir™ Delta module operates at close to 89% efficiency.
Please use the Contact form on the right for MatrixAir™ Solar Air Heating Systems information and ordering.