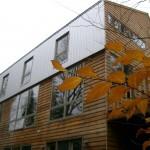 Product by:
blueandyellow


Julia Bourke and Peter Clark of blueandyellow are known for being leaders in Sustainable Design. We provide sustainable solutions for those wanting "green" their homes. Our speciality is in passive design, which means working with the environment and landscape's natural features in order to maximise the energy efficiency of a home or building.
A blueandyellow home is not only Energy Efficient and durable, but also locally sourced, beautiful, spacious and healthy for those living within it. With over two decades' experience, we understand the challenges that go into creating sustainable and green houses, schools, health care facilities, industrial buildings and much more.
If you are looking for expert consultants when it comes to your Green Building project, contact us at blueandyellow. Your needs, along with the needs of the environment, are important to us. Let us help you create the sustainable building that you desire.
Please use the Contact form on the right for Leaders in Sustainable Design information and ordering.