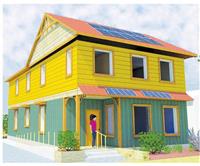 Product by:
Canada Green Building Council


The Canada Green Building Council, or CaGBC, is committed to improving Canada's Sustainability by promoting the growth of healthy, Green Buildings, homes and communities. We have chapters in several provinces across Canada, and we hope to transform the way buildings are created and maintained, striving toward a more sustainable and Environmentally Friendly future.
The CaGBC offers educational courses that are designed to help promote healthy building practices, as well as allow you to achieve or maintain your LEED certification. We offer classroom-based workshops, private on-site workshops and e-learning options.
With better environmental education comes better building practices, and the CaGBC is devoted to helping people learn the benefits of green building, changing industry standards, developing best practices guidelines and supporting our members in developing more sustainable practices.
Please use the Contact form on the right for Improving Canada's Sustainability information and ordering.