Heritage Consultation Product details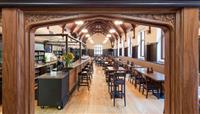 Product by:
McCallum Sather Architects


McCallum Santher Architects is top interdisciplinary design firm based specialising in many areas of green architectural design, including Heritage Consultation. We are based in Hamilton and Sustainability is what drives us.
Our approach is to incorporate efficiency in architecture, interior and engineering in our designs, and innovation in everything we do.

Our work with Heritage Buildings is from our love and passion for history and an understanding of cultural value that our built heritage represents. Our commitment to heritage begins with research and analysis according our client's need.
We work closely with all stakeholders for the best and the most sustainable approach. What we want is a good balance of preservation along with the programmatic, environmental and economic goals of the project. We believe that when these diverse considerations interact that exciting design solutions emerge and what we end up with is result to be proud of.
Please use the Contact form on the right for Heritage Consultation information and ordering.