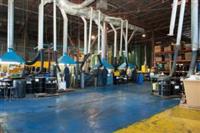 Product by:
CRI Environment inc.


CRI Environment is a company specialising in the industry of hazardous Waste Management, as well as other facets of environmental management for businesses, organisations, industries and institutions. Our main priorities are the health and safety of all employees, the preservation of the natural environment, and creating economical and efficient solutions for our clients.
When it comes to waste management, we use a multi-faceted approach. First, we strive to help companies reduce their waste. Next, we help them find ways to reuse and recycle some waste products. Other products do need to be disposed of, and we focus on safe elimination and valorisation procedures.
At CRI Environment, we work hard to Conserve Energy and reduce waste. This leads to lower costs and overhead, as well as a reduction in harmful greenhouse gases. Please contact us if you would like to learn more about what we can do for you.
Please use the Contact form on the right for Hazardous Waste Management information and ordering.