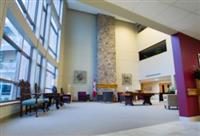 Product by:
McKay-Cocker Construction


At McKay-Cocker Construction, we pride ourselves on delivering high quality construction projects across a range areas including: Design-Build and Construction Management. We are diverse in our services as we provide solutions for commercial, heavy civil, industrial, and institutional sectors.
Our solutions to us, have no boundary. Each and every one of them is unique, like our clients themselves.
Construction management is our biggest sector as almost 40 per cent of our work in the past decade has been for this area.
Construction Management is something allows our clients to choose a builder early in the process whilst design is still in it's development phase. This give us time to provide sound project advice to our clients before the design is complete.
We aim to enhance the Construction Management process by - giving constructability reviews, permitting and approvals assistance, logistics planning, budget and schedule iterations, sequential tendering package assistance, quality management, safety considerations and full construction services.
We are always careful in our approach and there is always discussion between our professional team of experienced the architects and consultants. This allows us to give the best results we can.
Please use the Contact form on the right for Construction Management information and ordering.