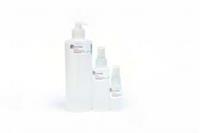 Product by:
Silk Road


Botanical Mist Paradise Organic Toner is made with botanical extracts of geranium, lavender and marjoram.
It is Alcohol free and ph balancing.
Toners are used to full the cleansing process in your face.
It helps remove the last traces of dead skin cells and balance the skin's pH level after cleansing.
In additional, toners also soften the skin's surface and act as humectants by drawing moisture to it.
Spray the toner over face and neck after cleansing with gentle foaming daily cleanser, and immediately follow with nourishing dew moisturizer to lock in moisture.
Apply toner to a cotton pad and wipe across skin.
Botanical Mist Paradise Organic Toner is excellent for re-hydrating skin during travel and in air-conditioned spaces.
Note: Cool off in the heat by keeping your toner in the fridge.
Please use the Contact form on the right for Botanical Mist Paradise Organic Toner information and ordering.