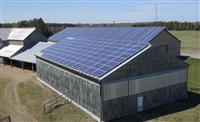 Product by:
Generation Solar designs


These 2 sustainable barns are in excellent shape and have had a productive life servicing an active horse operation.
Adding an Agricultural Solar Retrofit Installation was a natural choice for the owner.
Fitting all the desired eco-friendly solar onto the barn roofs was not easy, thus the owner, a qualified mechanical engineer, designed his own custom racking system with our help.
The resulting variety actually overhangs the roof peak on both barns.
This is usually not a recommended method to mount a green solar array, but in this case the mounting method was supported with appropriate engineering.

Agricultural Solar Retrofit Installation is another example of multiple smaller string inverters chosen to maximize serviceability and minimize down time in the event of a failure: a vote for long term reliability.

Wiring from the PV combiners was covered under the horse riding ring as well as through the barnyard.

The system is equipped with complete weather monitoring for tracking performance against expectation.
Please use the Contact form on the right for Agricultural Solar Retrofit Installation information and ordering.