Gulf Islands Brewing Ltd. info, products & news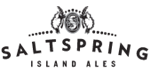 Gulf Islands Brewing has created Salt Spring Island Ales. They are a small brewery, based on Salt Spring Island, that endeavours to use local ingredients in their beer, wherever possible. They have planted their own hops and also partner with other Salt Spring Island farmers to grow hops. Other local ingredients that they use are Salt Spring honey and Vancouver Island grown heather. They brew exclusively using their own natural spring water, which comes from the mountain behind the brewery. Because natural spring water is used, there is no chlorine and public water resources are not used up in the making of these beverages.
Please get in touch with Gulf Islands Brewing Ltd. from the Contact box on the right.
Gulf Islands Brewing Ltd. Location
Gulf Islands Brewing Ltd. Products
listed