Greenway Carpet Cleaning info, products & news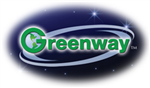 EARTH-FRIENDLY - Natural, safe, biodegradable products that get your carpets and upholstery sparkling clean - free of fumes and toxins. Certified by the EnvirodesicTM and GreensealTM organizations as meeting stringent environmental standards. QUICK DRYING - Your carpets will dry in only 1 to 3 hours in most cases. NO RESIDUE - There is no residue left behind due to our oxygenated hot water rinse. PEOPLE - Trained and certified by an international association (IICRC) to the highest industry standards - they are truly specialists. PROFESSIONAL SERVICE - Absolutely reliable, dedicated and professional. TECHNOLOGY AND EQUIPMENT - Our low moisture technology and high performance equipment is the best in the industry. COMMITMENT AND EXPERIENCE - Our family-owned company has 18 years of dedicated service in the carpet and upholstery cleaning business.
Please get in touch with Greenway Carpet Cleaning from the Contact box on the right.
Greenway Carpet Cleaning Products
listed